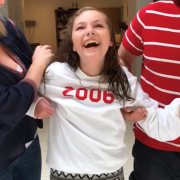 The Covid-19 pandemic has had a devastating effect on charities around the globe, with the cancellation of thousands of events and the loss of billions in fundraising income. In the UK, the organisers of the biggest mass-participation sports events such as the London Marathon have come together to create a new campaign to raise vital funds to help save the UK's charities. They have put together a campaign called The 2.6 Challenge which launches on Sunday 26 April (The original date of the London Marathon) and charities are encouraging their supporters to get involved to help raise funds and awareness.
Each person taking part in the challenge is encouraged to link their activity to the number 26 or 2.6 and examples include baking 26 cakes, running 2.6 miles, learning to count to 26 in a new language or even walking 26 steps….. 26 steps may seem simple to most people but for those living with the debilitating effects of A-T, it can be tougher than completing a marathon.
The Global A-T charities are encouraging A-T families and their friends to join forces on Sunday 26th April to participate in a social media campaign which will raise awareness and funds for each of their own patient organisations. Everyone can take part, including our A-T Warriors.
We hope that they will consider walking 26 steps (with help if required) or use a wheelchair/mobility aid to cover either 2.6 or 26 metres/yards within the confines of their home or garden. Families should film these efforts and upload the footage to their social media pages (especially Facebook) tagging in their chosen organisation and using the hashtag #26steps4AT. If you wish, you can choose to add a Facebook donate button, make a donation yourself or link to a specific fundraising page. Contact your A-T organisation to obtain a donation link.
Your social media posts should include certain key messages such as "One step closer to a cure", "26 Steps can feel like a Marathon", "Stepping up for A-T", "A step in the right direction" and also include the hashtag #26steps4AT" as well as tagging your chosen charity. An example of text which could accompany your video is as follows:
"We/name are/is taking #26steps4AT as part of the #twopointsixchallenge to raise funds and awareness for @yourorganisation because for people living with A-T, 26 steps can feel like a marathon. Please help us take one step closer to a cure by:
1- Doing your own 2.6 challenge and nominating another 2 people. The challenge: Record a short video of yourself doing something related to the number 26 or 2.6 (26 steps, 26 jumps, running 2.6km at home, counting to 26 in a foreign language…the more fun the better!) then share the video and copy this post. People of all ages can participate. Please tag @yourorganisation and #26steps4AT
or
2- Share this post and make a donation. (Insert your organisations donation link here. This is the Action for A-T page ActionforAT26Challenge )
Thank you!! Taking these small steps will bring us closer to a cure."
In order to spread the message far and wide, we hope that you will either nominate others to get involved or simply share the post and encourage your followers to take action, donate, etc. This should set off a chain reaction which will see numerous videos shared around the world, thereby raising funds and awareness of A-T.
We hope that you will lend your support by encouraging everyone to take part in this global campaign as we are stronger together and have the potential to make a real difference if we join forces.
Take care and stay safe
@ActionforAT
https://actionforat.org/wp-content/uploads/2020/04/Evie-Step.png
1189
828
Sean Kelly
https://actionforat.org/wp-content/uploads/2016/01/action-for-at-logo.png
Sean Kelly
2018-04-20 14:51:28
2021-03-25 14:53:06
26 Steps for A-T - Together we are Stronger