Join Action for A-T for this interactive webinar showcasing some of the latest global A-T research studies.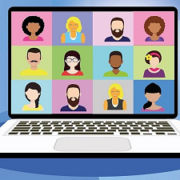 As the pandemic has led to the cancellation or postponement of almost all face to face A-T meetings and conferences, we thought it appropriate to highlight some of the current A-T research studies in a safe and accessible, online environment. Key stakeholders from the global A-T community will provide an easy to understand, concise overview of their current projects as well as answering your questions. This interactive event is FREE to attend and open to everyone with an interest in A-T.
The webinar will be hosted by Broadcaster, Journalist and Action for A-T Patron, Naga Munchetty and chair of Research Advisory Committee, Dr Mark Toms and delivered via a simple online tool called Slido. The Slido platform can be accessed via any web browser with no downloads required. The platform allows the audience to view the presentations and ask questions within the same window whilst also voting for the questions they like the most. Participants can remain anonymous if they wish.
Speakers on the day include:
Jennifer Thornton – A-T Children's Project, USA
Dr Rob Dineen – University of Nottingham, UK
Dr Elad Jacoby – Sheba Medical Centre, Israel
Dr Andrew Prayle – University of Nottingham, UK
Professor Ignacio Molina – University of Granada, Spain
Professor David Coman – Queensland Children's Hospital, Australia
Key Information
Date: Monday 29th March 2021
Time: 16:00 – 18:00 (GMT +01:00)
Location: Online
Entry Cost: FREE
Registration: Click on the button below to indicate your interest
Participation: Registrants will receive a link to the webinar closer to the date
The presentations will be broadcast live in English and recordings will be available to download after the event.