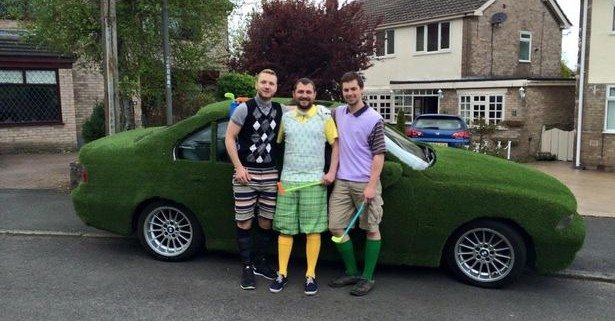 Scumrun, now in its eleventh year, is the original charity driving event whose participants raise much needed funds for children's charities. The 2016 event took place in May 2016 with fifty plus cars making the journey across Europe, taking on new challenges in mystery locations each day. All participants were driving a car costing under £500, and were able to spend as much as they liked modifying their vehicle in preparation for the event. The teams raise funds for the official Scumrun charity partner and £54,000 was raised for Action for A-T.
Sean Kelly, Chief Executive of Action for A-T, explained: "We were delighted to have been chosen as the nominated charity partner of Scumrun and thoroughly enjoyed taking part in the 4 day driving event across Europe. The funds raised by this year's participants will be committed to a new research project at the FIRC Institute of Molecular Oncology in Milan, Italy. The Stephen Green project for the study and treatment of DNA production defects in Ataxia Telangiectasia will begin in December 2016 and is being led by Dr Vincenzo Costanzo. On behalf of everyone at Action for A-T and the families who look to us for hope, I would like to thank all of the Scumrun competitors and the people who contributed to their fundraising totals. I would also like to thank the event organisers Ed and Jess White as their event has helped make a real difference to so many charities and their beneficiaries."
Dr Vincenzo and his team hope that their studies on A-T cells will provide fundamental clues on cellular processes impaired in A-T and will uncover potential compounds that are able to modify and correct the A-T cellular defects. This work could therefore provide essential information to assist clinicians in the design of therapeutic drugs and compounds and if successful, could help to delay or minimise the impact on of some of the clinical problems associated with A-T. Full details of the project can be viewed here http://actionforat.org/the-stephen-green-project/
This project will take 36 months to complete and takes us one step closer to finding a cure or treatment for A-T. The project cost of £99,930 has been almost entirely funded by gifts given in memory of the late Stephen Green and the monies raised by the teams who participated in the 2016 Scumrun.
https://actionforat.org/wp-content/uploads/2016/12/Infront-fo-the-car-e1480672287764.jpg
200
300
Sean Kelly
https://actionforat.org/wp-content/uploads/2016/01/action-for-at-logo.png
Sean Kelly
2016-12-02 09:38:06
2017-09-28 14:34:04
Scumrun raises vital funds for Action for A-T