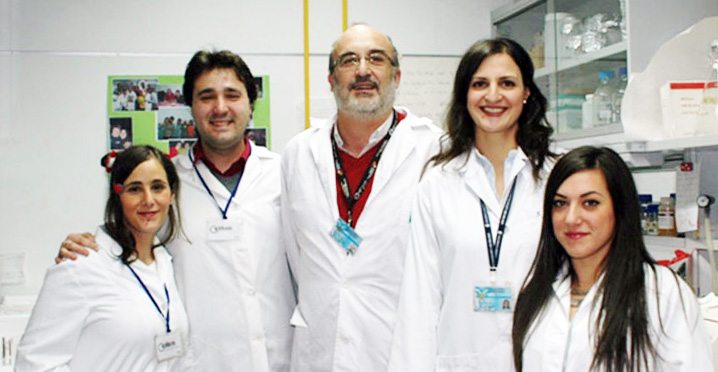 WHY WAS ACTION FOR A-T ESTABLISHED
Anyone who has a child diagnosed with Ataxia Telangiectasia (A-T) realises immediately and agonisingly that their lives will be changed forever, that the future holds a number of very difficult challenges for their child both physically and emotionally. Founded in January 2012 by parents of a child diagnosed with A-T, Action for A-T understand what that feeling is like and is committed to making a difference to those affected by funding high quality medical research.
In the UK, the amount of funding provided for research into A-T is very limited. Action for A-T was therefore established as a medical research charity to increase investment in A-T research and work to help push forward our mission.
'There is considerable hope…it is just a matter of time and money'. 
Professor Gatti, Professor at UCLA, California. Project starting 2014- developing a new model for testing drugs to treat A-T. The main aim of the project is to develop 'read through' compounds to treat individuals who have A-T caused by nonsense mutations (estimated to be around 30% of individuals affected by A-T).
A research project funded by Action for A-T. 
MISSION
To fund medical research to speed up the process of identifying a cure for Ataxia Telangiectasia (A-T) or treatments that delay or prevent the disabling effects of this devastating childhood condition.
VISION
A future where the effects of A-T are minimised.
We passionately believe that with increased funding and continued global and collaborative effort, effective treatments for A-T will be developed and the lives of those affected will be changed.
FOCUS
We provide a dedicated funding stream for medical research. Our sole focus is to raise funds for this purpose; as well as working to drive research and awareness of A-T. Over the last few years, we have become the leading charitable funders of A-T medical research in the UK.
"In the UK, and due to its National Clinic, Nottingham researchers are able to pull together more children with A-T to involve in the study than would be practically possible anywhere else, leading to the biggest study of its kind for A-T in the world." 
Dr Dineen, Clinical Associate Professor at the School of Medicine at the University of Nottingham, UK. Project starting 2014 – the CATNAP study (the Children's Ataxia Telangiectasia Neuroimaging Assessment Project). The main aim of the study is to develop biological markers which will measure the underlying disease process and help to assess whether future treatments work. A research project jointly funded by Action for A-T and the A-T Children's Project. 
RESEARCH WE FUND
Scientific and medical research is vital for increasing our knowledge on A-T. Action for A-T's objective is to fund high quality research projects that have the potential to lead to treatments and cures for A-T. We will consider funding research which aims to:
advance our understanding of the underlying mechanisms that lead to A-T
identify interventions which will stop or slow down the progression of A-T
find ways to repair the damage done by A-T
develop treatments that relieve and ultimately cure symptoms caused by A-T
All research funded must demonstrate to be of actual or potential benefit to those affected. We are particularly interested in pursuing basic science or translational research projects in relation to two areas that have the potential to achieve the greatest outcomes for people living with A-T:
1. UNDERSTANDING THE DISEASE
The most devastating effect of A-T is on the nervous system. The progressive neurological deterioration experienced by children with A-T contributes most to their decreased quality of life. Despite advances in research, we still do not completely understand what processes are taking place in those who have A-T and why A-T is progressive. Understanding exactly what happens to the structure, function and development of the brain and the immunology of the disease will provide clues that could lead to the development of new therapies and therapeutic strategies that may bring the greatest benefits to A-T patients.
2. IMPROVING SYMPTOM MANAGEMENT
A-T is a complex condition with a range of symptoms; the symptoms that cause mortality in those affected are lung infections and also cancer predisposition. Determining the mechanisms that lead to lung failure and cancer in A-T patients, developing improved ways to prevent, manage and optimally treat lung symptoms and cancer would be of significant benefit to A-T patients.
OUR FUTURE DIRECTION
This is our first research strategy which we will continue to develop over the next two years, in order to highlight initiatives and enhance our strategy, processes and the way in which we work. We will particularly focus on four areas to further enhance our strategy in 2016/2017. When we review, we will look at the direction of our future research funding, taking into consideration the experience we have gained, the results and impacts of previously funded studies and the wider context of global research into A-T.