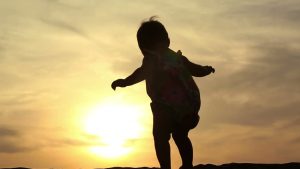 Our wonderful daughter was recently diagnosed with A-T at just 21 months old. We didn't think that anything was wrong before she was about 14 months. Then we noticed that her back and head seemed more unstable than normal. Initially, she started some physical exercise as we hoped that this type of training would help with the unsteadiness. After a few months with minimal improvement, we arranged a consultation with several specialists at our local hospital. During this consultation, we got a feeling that they suspected something more serious was wrong and they mentioned a specific neurological condition which made us very anxious.
After weeks of different examinations, blood samples and testing, the doctors couldn't find anything wrong and reassured us that it wasn't the condition they first mentioned. This news caused great relief, but not for long..
After just two more weeks we got the crushing news that our daughter had A-T. A condition we had never heard of, but we quickly understood the severity of the diagnosis. This came as a huge shock to us and it felt like life would never be the same.
The thought of how our daughters' life will develop without treatment is unbearable. A life filled with uncertainty and tough challenges. We worry about many things such as if she will make friends, if she will be able to play with other children and other much worse thoughts that terrify us. The worst thing about this disease is that it affects innocent sweet children who deserve a lot better. We have painfully experienced that this could happen to anyone and we do not wish this on anyone else. This is every parents worst nightmare.
At the same time as we got the diagnosis the doctors told us that there is no treatment or cure for A-T. Another terrible message. We are now desperately searching for treatments around the world.  Even though there is no treatment today, learning that there are several different research projects going on is a huge comfort. We are now purely getting by in hope of a treatment or cure. Even though research is currently taking place, we are very concerned about how long it takes. It seems like it is very difficult to get any of the projects to the clinical trial stage, so we hope that more money can speed up the process.
We are so thankful for everyone who is working on this and donating money. We want to thank all of you. Further research is the only thing that can help A-T families like us.
https://actionforat.org/wp-content/uploads/2017/12/Baby-Girl-Image.jpg
480
852
Sean Kelly
https://actionforat.org/wp-content/uploads/2016/01/action-for-at-logo.png
Sean Kelly
2017-12-07 09:45:48
2019-03-28 14:17:16
Our Story