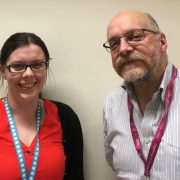 Research Project information
Principal researchers: Dr William Whitehouse & Dr Emily Petley
Institute: University of Nottingham
Cost: £177,865.96 over 24 months in partnership with the A-T Society and BrAshA-T
Start Date: 7th of August 2019 (no cost extension granted until end of August 2022)
What are the researchers proposing to do?
Dr William Whitehouse, along with Dr Emily Petley and professionals from the two UK national A-T clinics, are going to document the natural history of A-T.  They will do this by using data from the national paediatric and adult A-T clinics in Nottingham and Papworth to understand what the most common problems are, how frequently, and at what age they present. This study will be the first to define the life-course of A-T in the whole population with results that will help families all over the world.  The NHS set-up in the UK provides this unique opportunity.
Why?
A-T is an under-investigated disease with little detailed information on the pattern of the condition, or what to expect in the years following diagnosis. This uncertainty can be very daunting for people with A-T and their families. This study will not only provide detailed information to people with A-T and their families about the course of A-T, but also to health professionals and researchers, allowing them to improve the care that is provided to people with A-T and look for potential treatments/cures.
How will the research be done?
Dr Whitehouse and Dr Petley will write to all A-T patients in the UK who are currently seen at one of the national clinics informing them about the study and giving them the opportunity to opt-out of the study if they wish.
Dr Petley will then review the clinical notes of everyone with A-T seen in the adult and paediatric A-T clinics since 2001, (approximately 170 people), extracting data on infections; immune deficiencies; cancers; lung disease; brain and nervous system disorders; growth; nutritional status; mortality; and genetics. This data will be statistically analysed to determine links between signs and symptoms, and describe how A-T progresses.
There will be two focus groups with people with A-T and their families towards the end of the study to discuss the results and consult people with A-T and their families about their priorities in A-T research.
How could it make a difference to the lives of those affected by A-T?
This study will provide more information to people with A-T and their families about the progression of A-T, what to expect in the future, and what complications to look out for. Understanding the natural history and progression of A-T will enable clinicians to help patients and their families get the services they require; more support at school, equipment at home to make activities of daily living easier, more emotional support for the patient and their family and career advice.  This study will generate information that will be used by clinicians to improve the care they provide to their patients with A-T, including looking at how different aspects of A-T may impact on each other, for example nutrition on respiratory function. The team also hope that this study will inform future clinical trials, working towards symptomatic treatment and cures.