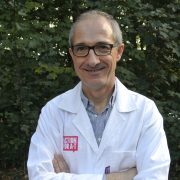 Research Project information
Principal researcher: Professor Rafael Yáñez-Muñoz
Institute: Royal Holloway, University of London
Cost: £240,000 over 28 months
Start Date: 7th November 2017 (Extension to 30th June 2021 granted in August 2020)
What are the researchers proposing to do?
Ataxia Telangiectasia (A-T) is caused by mutations in the ATM gene and more than 600 different mutations have been identified in patients. The aim of this project is to use the most proficient genome editing technology, known as CRISPR, to develop strategies to permanently repair the ATM gene.
Why?
Mutations in the ATM gene affect the production or the activity of the ATM protein, leading to the symptoms associated with A-T. Fixing the faulty gene permanently will give the cells a chance to produce the correct protein. In the last few years, CRISPR has revolutionised the field of genome editing and shown remarkable success in progressing treatments for many genetic diseases that also rely on the correction of faulty genes. The team have therefore decided to use CRISPR in an attempt to repair ATM mutations.
How will the research be done?
The team will attempt to repair the faulty ATM gene using several different CRISPR genome editing strategies. First, they will test these in human cells that are easy-to-grow in the lab. Next, they will move on to cells that have been derived from people affected by A-T, which harbour ATM gene mutations. Finally, they will test the most efficient genome editing approaches in human blood stem cells.
How could it make a difference to the lives of those affected by A-T?
Currently, there are no treatments for A-T, and this project aims to pave the way for future gene and cell therapies. The team will use genome editing to repair the faulty ATM gene, which is the root-cause of the condition. During the second year of the study they will test their genome editing strategies in blood stem cells, which when re-infused in the body can regenerate the entire blood and immune system. If the planned gene repair studies are successful, follow-up work can explore the strategies in blood stem cells taken from people affected with A-T. The team hope to develop this avenue as a possibility for treating the immune defects seen in A-T patients in the long term.

This research project was part funded thanks to the generosity of the BCA Blackbushe to Paris & Paddock Wood to Bruges riders.
https://actionforat.org/wp-content/uploads/2017/12/Prof-Yanez.jpg
2585
2592
Sean Kelly
https://actionforat.org/wp-content/uploads/2016/01/action-for-at-logo.png
Sean Kelly
2017-12-15 14:05:17
2021-01-25 11:49:46
Development of CRISPR/Cas Genome Editing as a Treatment for Ataxia Telangiectasia