We were extremely proud to have been selected as a benefiting charity of the BBC Radio 4 appeal and delighted to have enlisted the support of TV star Kevin Whately. Kevin agreed to act as an ambassador for Action for A-T after recently meeting an A-T family at the BBC Old Broadcasting House studios. During the appeal, he highlighted the plight of the Day family and how they were dealing with their daughter's A-T diagnosis. He also encouraged listeners to support our gene editing project at the Royal Holloway, University of London.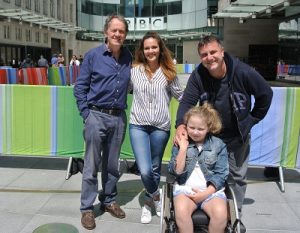 The appeal was aired on BBC Radio 4 in July 2018. Click here to hear the recorded message. (Please note: the donation button will be linked to the current charity partner not Action for A-T. If you would like to make a donation, visit our Donation page).
Genome Editing as a Treatment for Ataxia Telangiectasia
Professor Rafael Yáñez-Muñoz and his team at the Advanced Gene and Cell Therapy laboratory will use the latest CRISPR-Cas technology to test several ways of repairing the faulty ATM gene that causes A-T. They will initially work with easy-to-grow human cells in the lab, and then assess the most generic A-T gene repair strategies in human blood stem cells.
Professor Yáñez-Muñoz explained "We sought feedback from A-T families at the planning stage of this project and all of the parents felt that gene therapy projects such as this offered the most hope of a potential treatment"
Click here to find out more about this study or view a short interview with Professor Yáñez-Muñoz
Lilly's Story
"Lilly was born by planned C section in May of 2009 and was a healthy normal baby. There were no complications during birth and up until she was 2 years old everything seemed perfectly normal, there was no reason to suspect hard times were upon the horizon." To read the full story, visit Lilly's Story on our website.