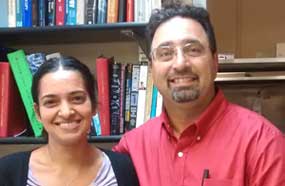 Research Project information
Principal researcher: Professor Kamran Khodakhah and Ambika Tewari
Institute: Albert Einstein College of Medicine, New York
Cost: £100,000 over 18 months
Start Date: March 2015
What are the researchers proposing to do?
Kamran and Ambika aim to develop a mouse model of A-T which replicates the neurological
symptoms of the condition such as ataxia (lack of motor coordination) and cerebellar degeneration
(death of neurons in the cerebellum).
Why?
Currently there are no animal models of A-T that mimic the neurological symptoms of the disease in
humans. The neurological symptoms of A-T significantly reduce the quality of life of children and
adults affected.
The attempts made thus far to understand why the cerebellum is dysfunctional in those affected by
A-T have failed, mainly because the mouse models of A-T do not show these symptoms. In order to
be able to offer therapies, researchers need to understand what causes the neurological symptoms.
Explorations of the mechanisms of A-T will be greatly aided by animal models that replicate the
symptoms of having A-T.
How will the research be done?
Prior mouse models may have failed to replicate the neurological symptoms of A-T because the mice
were able to compensate for the dysfunction or the absence of the ATM protein during their development. The ATM protein is missing or not fully functioning in those affected by A-T.
The researchers therefore aim to investigate further and will bypass development to avoid such compensation by manipulating the function of ATM in the adult mice.
How could it make a difference to the lives of those affected by A-T?
Without an appropriate animal model, researchers have very limited options in defining the specific causes of the neurological symptoms in A-T and in turn it is difficult to offer remedial measures to patients. The generation of an appropriate animal model would constitute a major step forward for research targeted towards understanding the neurological symptoms of A-T. If successful, this project will greatly aid developing future treatments to improve, delay or stop the neurological symptoms associated with A-T.
https://actionforat.org/wp-content/uploads/2015/12/2015-Kamran-Khodakhah-Ambika.jpg
186
285
@framework
https://actionforat.org/wp-content/uploads/2016/01/action-for-at-logo.png
@framework
2015-12-17 18:56:31
2017-09-28 14:45:13
An ataxic mouse model of A-T