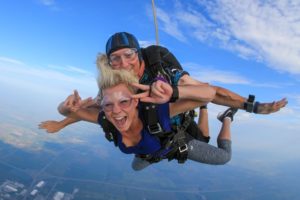 A skydive might be something you've had on your bucket list for a while and with our partners Skyline we can help. With lots of skydiving centres across the UK, there is sure to be one near to you. Click here to find the airfield closest to you and learn the eligibility requirements.
Confirming your jump is simple..! Either pay for yourself, with costs ranging from £270 to £340 depending on the drop zone you want to jump from or pay a small booking fee of £50 and commit to raising a minimum amount. That's right, by fundraising for Action for A-T, you get to skydive for only £50!
Minimum fundraising targets range from £395 to £495 (depending on your jump site) and all targets must be met/exceeded before you jump.
---
Key Information
• Date: Dates (You choose)
• Location: Click here to view available jump sites
• Entry Fee: From £50 per person
• Fundraising Target: From £395 depending on jump site