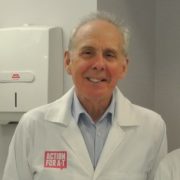 Research Project information
Principal researcher: Professor Malcolm Taylor
Institute:  University of Birmingham
Cost: £53,618.63 over 24 months
Start Date: 1st of March 2021
What are the researchers proposing to do?
Building on their initial pilot study in 2011, Professor Taylor and his team at the Institute of Cancer and Genomic Sciences will perform a detailed survey of cancer incidence in a cohort of ~300 UK individuals with A-T to gain a more accurate assessment of the tumour types that individuals develop. (Approximately 200 of these patients are alive, some having been treated for a cancer. Of the ~100 that are deceased, the cause of death was cancer in about 50 of them.)
Why?
Children with A-T have a 1 in 3 chance of developing cancer and treatment regimes such radio and chemo-therapy can prove fatal due to increased sensitivity. Younger patients are predisposed to a wide range of Lymphoid tumours whilst solid tumours (particularly in the liver and pancreas) develop in later life. While some information is known about the types of tumours there are no confirmed pathology reports for the majority. A greater understanding of the range and frequency type of each tumour is urgently required to assist clinicians and researchers developing potential treatments for A-T related cancers.
How will the research be done?
While the team have some information on the types of tumour, they do not have confirmed pathology reports for the majority. The survey will identify the range of tumour types and frequencies of each tumour type in A-T in a more precise manner, in terms of the exact pathological diagnosis of each tumour. For example although lymphoid tumours are the most frequent tumour type in A-T children we are less sure about the proportions of the different histological types in UK patients.
The data on cancers in this population will be analysed in a standard manner, in terms of the types of tumour and incidence rates of the different cancers compared to the normal population. Where tumour material is available, further molecular characterisation of the tumours using techniques such as whole genome sequencing and RNA-Seq will be performed. These will give a detailed assessment of both the mutational and transcriptional spectrum of the tumours and provide insight into the cancer phenotype within A-T, identifying the genetic drivers and biochemical pathways that promote and maintain this phenotype.
How could it make a difference to the lives of those affected by A-T?
The results of the survey will enable the team to compute the risk of A-T patients developing cancer plus the full range of cancers they are predisposed to. They also hope to determine how the tumour type is related to the particular ATM mutations carried by the individuals and if there is any impact of the different types of mutation on clinical outcome.
This study therefore offers significant hope for those living with the devastating effects of  A-T as the findings will provide instant benefit to the families and their clinicians. A more precise knowledge of the histological types of tumour seen in A-T patients will also enable better research focus on particular tumour types in A-T whilst assisting with possible intervention and more effective and less toxic treatments.
https://actionforat.org/wp-content/uploads/2021/01/Malcolm-Taylor-1.jpg
660
664
Sean Kelly
https://actionforat.org/wp-content/uploads/2016/01/action-for-at-logo.png
Sean Kelly
2021-01-25 11:43:19
2021-03-16 15:55:12
Assessment of the frequencies and types of cancers in occurring in A-T patients