MAKE SOME NOISE
Here are some useful fundraising resources to help you make the most of your experience.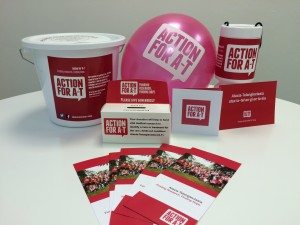 We are here to help you with your fundraising endeavours and will assist you in any way we can. If you would like to discuss your fundraising plans in more detail or would like any specific resources for your event or activity, please contact a member of the fundraising team by calling 01428 853313 or email events@actionforAT.org
Fundraising Pack, Guidelines and Agreement
Our fundraising pack offers plenty of ideas, inspiration and information on how to raise much needed funds whilst having fun along the way. Keep your fundraising activities safe and legal by adhering to our fundraising agreement and following our simple  guidelines. Click on the images below to download your copy.
Promotional Fundraising Posters
Choose from one of the following themed A4 posters to promote your specific event or fundraising activity. Download your preferred option and click on the text boxes to add your event details. Alternatively, just print a blank copy and add the details by hand.
Training Guides
Whether you're cycling or running, our comprehensive training guides will help you prepare for your next big challenge. More training guides coming soon.
Awareness Raising Poster Pack
Choose from the following four poster designs to help raise awareness of A-T and let people know why they should lend their support. Click on the image to download.
Action for A-T Leaflet and Postcard
Our leaflet and postcard are useful resources to let people know who you are raising funds for and why it is so important.
Set up a Fundraising Page
You can set up your own online fundraising page for Action for A-T. Its simple and easy to set up, secure to use and allows people to support your activity by donating online. You can set a total, add pictures & videos and tell people why you are fundraising. The funds which you raise will be transferred directly to us, so there is no need to collect any payments. Click on the logo below to set up your page.
Other Fundraising Resources
If you are hosting an event or raising funds for us, we can provide you with a number of additional materials to help with your activities. We also have a library of photos and case studies that we can share with you because we want you to know the life-changing difference your support can bring. If required, we can provide you with the following items:
Branded T-Shirts
Donation boxes and collection tins
Collection buckets
Posters
Printed materials
Banners
Please contact us at info@actionforAT.org or call us on 01428 853313 to discuss your requirements further.
Visit our Get involved pages to see how you can offer hope to an A-T family.