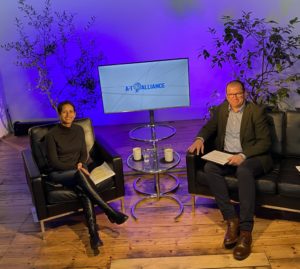 Following the success of the inaugural "Spotlight on A-T event" in 2021, Action for A-T and the members of the A-T Alliance staged a family focussed webinar event to highlight some of the current A-T research projects which are taking place around the world. Key stakeholders from the global A-T community provided a concise overview of their current research studies as well as answering questions.
The webinar took place on the 7th March 2022 and was hosted by Broadcaster, Journalist and Patron, Naga Munchetty and chair of  the Research Advisory Committee, Dr Mark Toms. There were six presentations and the line up of speakers and their presentation topics are listed below
Borja Saez & Marc Guell – Resetting the immune system in A-T
Manuela Pellegrini – Hematopoietic Pogenitor Cell Transplantation and Gene Therapy for A-T Syndrome
Ernst Wolvetang – Targeting cellular ageing processes in A-T
Lisa Bunn  & Munira Khan – The A-Team collaborative: Producing healthcare   guidance for children and young people with A-T
Svetlana Khorenkova – Why do Ataxia Telangiectasia neurons die?
Taylor Fields – N-acetyl-L-leucine for A-T
The presentations were broadcast live in English and a recording of the full webinar is available to view below.