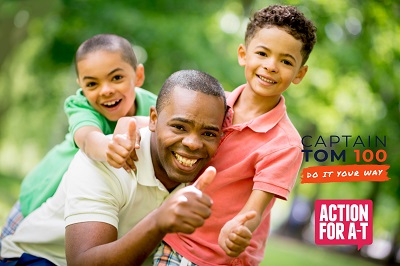 Captain Tom 100 – Everyone's invited
Help celebrate Captain Tom's 101st birthday and support Action for A-T at the same time by dreaming up a challenge of your choice based around the number 100, and do it between Friday 30 April and Monday 3 May.
You could walk 100 laps of your garden just like Captain Tom, swim 100 lengths or sing for 100 minutes. There are no rules (apart from Government guidelines on the roadmap out of lockdown) and it's open to everyone. Do it your way and have fun!
WHY?
On 6 April 2020, Captain Tom Moore set out round his garden to thank our NHS heroes. One hundred laps later, he'd raised an incredible £38.9 million for the NHS Covid-19 appeal. His simple message of hope – "Tomorrow will be a good day" – inspired millions around the world and brought comfort and joy to so many during the pandemic.
Now it's your turn to build on that legacy. Friday 30 April would have been his 101st birthday and to honour him and his amazing achievements, The Captain Tom Foundation are encouraging everyone, of all ages and abilities, to take part in the Captain Tom 100 challenge.
HOW?
People of all ages are taking on The #CaptainTom100 Challenge with a host of activities – around the number 100 anytime and anywhere over Captain Tom's birthday weekend. It's so simple. The ideas and options are endless! The only requirement is that you must follow Government guidelines on exercise and social distancing.
Think up your 100 challenge. It can be anything you like – from walking 100 metres to baking 100 cakes or writing 100 letters. If you need some inspiration, click here
Take on your 100 any time between Friday 30 April and Monday 3 May
Fundraise or donate to Action for A-T
Share your 100 on social media using #CaptainTom100
There are few simple steps to take:
Dream up your 100 challenge – if you need help there are lots of ideas here
Head to our dedicated webpages on Just Giving or Virgin Money Giving to donate whatever you can afford ­– or to set up your own fundraising page.
Ask all your friends and family to sponsor you and challenge them to do their own #CaptainTom100 Challenge
Complete your challenge
Share a photo or video of your challenge on social media with #CaptainTom100 and @ActionforAT
Nominate your friends to do the same.
For further information on The CaptainTom100 Challenge, including a list of partners and supporters, and for more ideas about what your activity could be, visit https://captaintom100.com/
We hope you'll join the nation in celebrating Captain Tom's 101st birthday by supporting Action for A-T. Together we can make a difference, together we are Action for A-T.