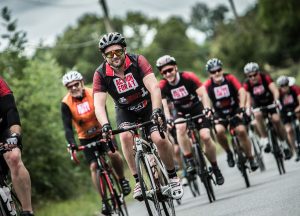 16th August 2020
For the fourth year the Ride London-Surrey 46 continues as part of the Prudential RideLondon festival of cycling. The sportive (remember, it's not a race!) comprises a spectacular 46-mile route on traffic-free roads, beginning at Queen Elizabeth Olympic Park in east London and following the same route as the Prudential RideLondon-Surrey 100 for the first 27 miles before taking a new two-mile route, which then links up with the last 17 miles through London to the finish in The Mall.
The Prudential RideLondon-Surrey 46 has been created specifically for newer cyclists and also younger cyclists, who might find a 100-mile challenge intimidating or, in the case of 16-18 year old's, they are not eligible to enter. It offers a great introduction to cycling on traffic-free roads and is a wonderful way to ride your first sportive.
Riders will depart in waves from Queen Elizabeth Olympic Park from 09:00-09:30, immediately after the last start wave of the Prudential RideLondon-Surrey 100. They will finish on The Mall at roughly the same time as the 100 riders and can celebrate their success at the Action for A-T post race reception area. All Action for A-T riders will receive a branded cycle top to wear on the day.
Key Information
Date: Sunday 16th August 2020
Location: London/Surrey

Fundraising Target: £150

Distance: 46 miles
Contact challenge@actionforAT.org