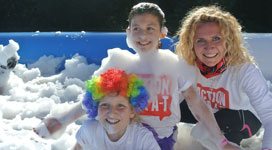 22nd April 2017
Join us at Gung-Ho! Windsor and take on the giant inflatable obstacle course, which is a big hit with kids and adults alike. If Windsor isn't suitable for you, check out the website for details on alternative venues and dates.
Contact us at challenge@actionforAT.org for details on how to enter or click the "Sign Up" button to go to the official Gung-Ho! website.
---
Key Information
Date: Saturday 22nd April 2017
Location: Windsor Racecourse
Registration Fee: From £38 (until 20th March 2017, then from £41)
Fundraising Target: No minimum amount
Distance: 5km
Contact: challenge@actionforat.org
When signing up, please join the Action For A-T team, and enter the password "actionforat".